As part of our promise to be smarter, bolder, faster, the CENTURY 21® System now provides its agents with the ToolkitCMA™ at no additional cost. The product, which is used by over 100,000 agents across the country and priced at around $200, is just one of the many resources that CENTURY 21 offers in order to support its members at the local level.
Among its features that you can view on the right, the ToolkitCMA offers the following:


98% Market Coverage


Mobile & Tablet Branded Presentations


MLS Interface


Marketing Flyers


What does this mean for you as an agent? Professional quality marketing, along with easy-to-read content from virtually any MLS in North America. Here, we've provided small sample of the various styles and formats in which you can create flyers, but you'll find even more options one you've signed in under your account.

Of course, the ToolkitCMA allows for customization, as seen in the preferences tab of the program below. This way, agents can tailor the product to their individual work.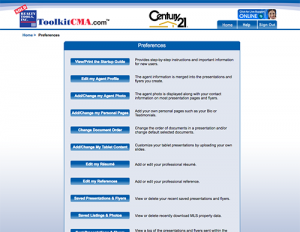 Remember, as part of the CENTURY 21 ® System, you'll receive all of this at no additional cost. This is just one way that our brand gives you the edge you need to succeed in real estate.